Special Offer for Early Sign Ups
(This offer expires July 1, 2017)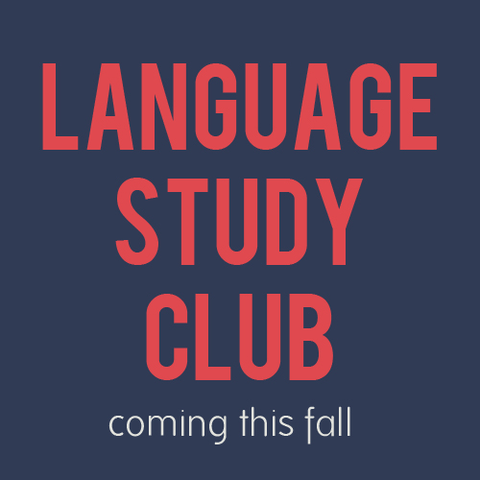 This fall, Lindsay Williams of Lindsay Does Languages and I are opening the doors to Language Study Club. It's a monthly membership club that gives you access to new and exclusive content each and every month to take your language learning further.
One month, it'll be exciting new good stuff from me, and the next it'll be from Lindsay.
Here's what to expect from us across the month:
Week 1 - Detailed video content about one topic
Week 2 - Workbook to help you take things further
Week 3 - Mini Challenge to put everything you've learnt so far into action
Week 4 - Live Q+A with me or Lindsay
The great thing about this is the different perspectives you'll get on language learning, especially as from time to time we plan to bring in guest co-hosts, who will all have different methods for solo language study.
But that's not all.
You'll also get teamed up with a smaller group of language learners who based on the initial questionnaire you complete will complement each other well. There may be a mix of language learners and a mix of personality types, and that's a good thing to embrace. You'll meet with your smaller group weekly (or more or less as your group prefers) and you'll support each other along the journey.
You also get access to regular study sessions. These are chances to hop onto a live video call with me, Lindsay and other language learners to just learn together with microphones off. If you find yourself highly motivated by accountability, this is a great chance to take advantage of that. I mean, are you really going to scroll Facebook when there's other language learners watching you?
Additionally, there's the monthly live Q+A in week 4 where everyone gets a chance to join in and share their best language learning tips and advice.
Normally, Language Study Club would cost you $29 per month. That's $174 for 6 months.
But because you're awesome, you get a whole 6 months for just $57 if you purchase it along with Language Learning Accelerator today - saving you over $100. This offer expires soon, so don't miss out!